Rupee continues losing streak against dollar
Massive devastation caused by floods worsens country's economic crisis.
Rupee loses Rs1.64 against the US dollar in interbank market.
Rupee likely to continue its downward spiral this week, traders say.
---
The Pakistani rupee maintained its losing streak against the US dollar at the start of the new business week on Monday, as massive devastation caused by the floods continues to worsen the country's economic crisis.
The local unit closed at Rs229.82 after losing Rs1.64 against the US dollar in the interbank market, as per the State Bank of Pakistan.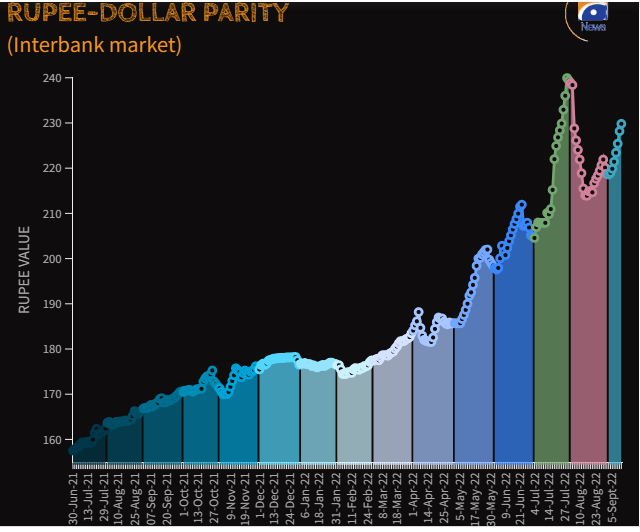 Traders say the Pakistani rupee is expected to continue its downward spiral against the dollar in the interbank market this week as lack of strong central bank intervention and no clear strategy to turn around the economy is depressing investors.
"Emerging currencies have suffered a lot due to the appreciation of the US dollar against the major currencies following relentless Federal Reserve rate hikes and increased safe-haven demand, but the Pakistani rupee's sharp fall of more than 4% in the last six trading sessions has fuelled investor uncertainty," said a foreign exchange trader.
The interbank market is tracking losses in the open market. The temporary hold on imports has shifted the problem to smuggling from Afghanistan against cash dollar payments, which has increased appetite for dollars in the open market. Other secondary factors are cash forex requirements for Dubai travellers, declaration of dollars from inbound passengers, severe accessibility issues for encashing in parts of all provinces.
The difference between the Interbank and open market is creating an incentive for the foreign currency accounts (FCY) to withdraw US dollars and sell into the open market. Whereas ultra-low interest on FCY accounts is not helping in attracting fresh deposits, according to the Tresmark's note.
Analysts do see multiple opportunities for inflows from friendly countries, bilateral institutions, and sovereigns (in the shape of flood aid). There is also a high probability that the mandate with the IMF may be increased by about $2.5 billion. But the energy crisis in Europe is going to test and stretch the global financial markets.