The final straw for Sana Javed: brand disassociate after multiple allegations
Statements, opinions, videos, pictures are all coming out in the open on social media against an alleged actress.
Sana Javed is a Pakistani television and film actress. She has performed plenty of performances in dramas like Ruswayi, Dunk, Romeo weds Heer and Khaani. The actress has been doing rounds on social media for all the wrong reasons.
Sana Javed was tagged and allegedly blamed by Omar Waqar, Ikram Gouhar, Manhoor Sheikh, Wajid Khan, Manal Saleem, and others. Sana Javed is allegedly accused of her misbehavior and unprofessional attitude toward her colleague.
The burden of plenty of allegations has led big brands like RANG RASIYA to call off Sana Javed from the shoot of their Eid campaign. The brand informed taking consideration of continuous allegations as a result, they dissociate themselves with Sana Javed as she was the main face of the campaign. The incident that involved Manal Saleem and Sana Javed was at their set and according to Rang Rasiya, they are deeply hurt. They further added and confirmed reshooting with another celebrity and requested the fashion fraternity to show polite behavior among brands.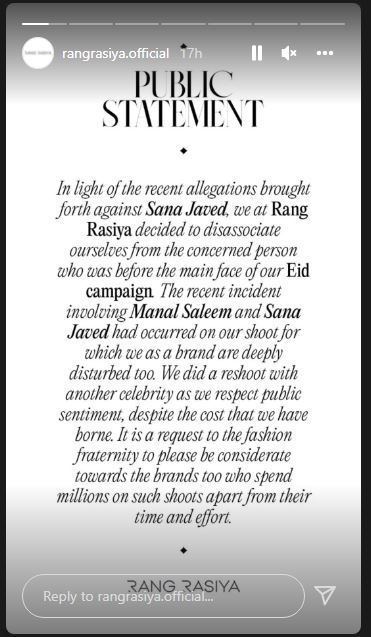 On the contrary, Sana Javed has taken legal action against and took on her social media handle, Instagram. She shared a picture of legal notification filing for a defamation case. According to her, she was falsely accused of fabricated news to malign her with hate speech and bullying that are threatening her career.